MAY 2023 "CHUCKLE CHALLENGE" RESULTS!!
Below are images of the winners of our May 2023 "CHUCKLE CHALLENGE". Members submitted images  the only judging criterium was the ability to make the judge "chuckle" upon first impression of each photo. Images were judged by 3 volunteer board members (Charles Stricker, Jeanne Scott, and Greg Lilly). Fourteen members participated and the pictures shown below were those that accumulated points by the judges, shown in order. Congratulations to all who entered. Click on the "X" in any picture to see a larger image slide show.
Stuart Lynn Award
In 2014, our Board of Directors instituted a new award.  While we have several ways to reward our members for their photographic skills, we wanted an award that would recognize one member each year who exhibits not only superb photography skills but who also makes outstanding contributions to the club.  In honor of the person in the club's history who has best exemplified these characteristics, we named our most prestigious club award, "The Stuart Lynn Award". 
Stuart Lynn Award winners to date:
2014   Stuart Lynn
2015   Vicki Thomas
2016   Jim Fiedler
2017   Pete Bechtol
2018   Gary Vandemark
2019   Jeanne Scott
2020   Charles Stricker
2021   Gary Vandemark
2022   Darcy Quimby
About Stuart Lynn...
Still an active member, Stuart joined CVDCC in 2000.  Our club is an excellent one that takes its photography seriously, driven in great part by Stuart's insistence on compliance with strict competition standards.  Stuart's efforts have resulted in a club environment focused on photographic excellence and the pursuit of constant learning.  Stuart is perhaps best known throughout Southern California and beyond for his seemingly unlimited computer and software development skills and equally unlimited dedication to helping our club as well as the Southern California Council of Camera Clubs (S4C) and the Photographic Society of America Worldwide (PSA).  He personally developed our superb competition software as well as our robust websites.  Stuart manages our annual international Coachella Exhibition, something he has done since he and Lillian Roberts created the Exhibition in 2008.  He developed the online remote judging capabilities that allow us to have our competitions judged by people from all over the world.  He does the same for S4C's annual international exhibition.  Our club is honored to have Stuart Lynn as a member. 
Presidential Award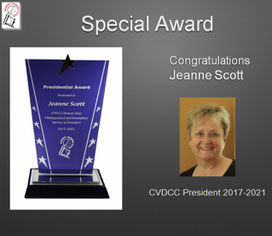 A special award was presented at our 2021 End of Year Awards meeting to honor Jeanne Scott, who had been our club president for the past 5 years. Under Jeanne's capable leadership, the club maintained its strong membership base, added new competition and educational programs, and continued to excel in the quality of members' photography. And all this with the turmoil caused by the pandemic, when meetings were held virtually and photographic opportunities much diminished. This award was well deserved and congratulations to Jeanne!